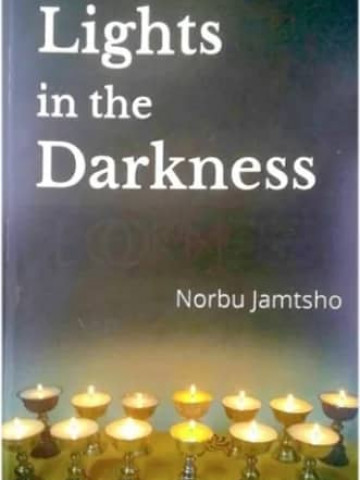 Lights in the Darkness
| | |
| --- | --- |
| Published In: | 2015 |
| ISBN: | 978-99936-963-0-8 |
| Category: | |
| No. of Pages: | 91 |
Book Overview
Norbu is the fourth of the seven children born to Jampel and Tshering Yangzom on 2nd of September 1996. Life was easier with parental warmth where togetherness was the culture, herding in the rain and leeches were the only worries then. Norbu's educational journey begun at the age of eight with self-motivation and interest for learning, everything went well until his father had to say goodbye to this world and his mother had to play the dual role. The coming of a new father worsened their lives as step-parent to step-child's relation. Not long after their mother's union with their new dad, the elder sibling started to abandon the family and finally, their only world (mother) also left, leaving the wingless chicks. Now Norbu had to become a father when he's still a boy and decided to hold the axe when he should be holding a pen if not for the constant insistence of his teachers and his undying interest for learning. Norbu's shortened childhood is becoming of a man. The boldness he exhibits in becoming the man of the house is an inspiration. At such a tender age he had to undertake physical jobs while bearing the mental turmoil. The audacity the "manly child" undertakes to Feed the younger ones and the circumstances he overcomes against the departure is the sheer joy to admire. Amid such emotional burdens, excellence in anything he does only tells us how serious he is with life. This 78 paged book of 26 short articles sends out so much of messages about the choice and acceptance, spirituality and reality, mentality and hope in despair. This book is for the old and young alike; it must raise the hope of those in despair and edify how it feels to have nothing to those in abundance. This honest autobiography indeed is a revelation of all virtuosity that every individual will not be reluctant to grasp. It can be a handy handbook for the counsellors across the country dealing with the mental health of our youths. I suggest everyone buy a copy to contribute a little amount for Norbu and his sibling's Education.
---
---
Customer Reviews (14)
---
Somebody rightly mentioned, if you want to be a tall you be with a group of people who is shorter than you or be with same type of people to you. Author narrates difficulties of his life and hopefully I am praying for the benefits to others who is going through his book. I can even relate my life to it and eventually connects to my emotions. I was inspired by author's determination to achieve anything in his life. This book is inspiration for this generation.
---
I felt so sorry to this author because he had bought his suffering to the everyones revelation.
I believe that life is always ups and down.
---
Norbu is one of the boy with a strong heart.As he could overcome any challenges at a very young age. He not only looks after his sister's and brothers but he is the one who struggles to fight against to get education rather than dropping.Moreover, he encourages his siblings to get educate till their stand up their own feet. His strugglness from the very young age learnt that there may be some youth at some part of area. Norbu life was not in the wrong way how much he came across the difficult task. Rather we should appreciate him being a responsible person as a parents and a student himself.
---
A short but a very learnable book as it teaches us about how in life everyone has their own share of misery but life goes on.At the sametime it remind us on how giving up is never the option.
---
This book' Lights in the darkness' sharing about the true facts of author himself.How he suffered while studying and at home.
He had shared his misery and how his
Life was dark before.But will lots of
People who came to help him and guide him where just the light that had brighten his darkness.He was able to lead normal life with the grand support from different/various types of peoples .From his tales not only an understanding of Norbu and Bhutanese life,but also an understanding of humanity.

I would like to request all our growing readers to read this book because from his tales we are made to see clearly the full impact of our own actions on one another.He gives us his memories without the criticisms or embellishments of an adult mind; they are given with the clarity and simple honesty that is found only in youth,Death,religion,family,friendship,
Development and cultural norms are all presented in his simple,innocent way.

Moral:we all in these world,once born,we will all face problems but we need to be bold as that we could defend all of the obstacles that comes in our life.

Address.
Name:Nima Selden.
Class:Eight.
School: Thungkhar lower secondary school.
Dzongkhag:Trashigang.
C.I.D: No.: 11514004213.
---
I really liked this book although it was a short one. I love how the author used simple language to convey to readers what he wanted to convey and how it clearly described the situations he was going through. It wasn't that intense yet it touched my heart and I really felt like crying when I was reading it. What I really liked is how Norbu faced the problems head on and didn't go astray by all the problems even though his family (mother,stepfather,elder siblings) gave up on him. The day his father died was the day his life turned upside down and the day his suffering began.
But with the help from those few kind hearted people he was able pass all the tribulations and I was really moved by his dedication and determination.
---
Norbu Jamtsho difficult's journey has taken him from his peaceful childhood village,where he spent his day in harmony together with his family to the hopeless role of acting father to his three younger siblings. His role as father was thrust upon him after the death of his father and departure of his mother.Reflecting on his life, he finds that he has more than his fair share of memories and some cherished and many more that brings him to tears.The most interesting part in this book is he never gives up his studies even when taking a role as father to his siblings. The part that I don't like in this book is when he suffers at a very young age and when his mother left him alone with his siblings and made him suffer. When you read this book you will realize how Norbu persevered and became stronger. Read this book to become stronger and bolder.
---
Norbu Jamtsho is an inspiring writer for young minds. It really inspires not to give up on problems. It teaches us that there are difficult ways in life but God sends us help in the way of peoples. We just need to have faith in God and continue doing our good works?.

This novel really motivates and inspires students to study. It gives us the idea that everyone has problems in life but never quit studies because of the problems. It really shows the importance of education. I salute you Norbu Jamtsho for not giving up if it was me in his place I would have quit. This novel also shows how our teachers are helpful and kind. Best regards to Norbu Jamtsho ?.
---
'Light in the Darkness' tells us about how much Norbu struggled with broken family, fathering dying when he was barely started his schooling, taking responsibility for his younger siblings, older siblings abandoning him to survive on his own, mother's remarriage and getting education was ten fold difficult to get than the present time. Although the book has none of the sophistication or depth, this books shares the the problem the students faced all to get the education. All the students of the present generation could learn from his experiences and know how fortunate is to able to avoid all such hardships.
---
This book"Light in the darkness" gave me lot of inspiration and I came to know how lucky I am to be born to a educated parents. I realise how much difficult is it to study in a society where people believe that education leads to no future and it better to work in the village that could be of some help to the parents. This book tell us a story about a young boy who is very much interested in learning and how much he struggled to feed his and his siblings stomach when he was just a little boy and his burden in life. And how he later realized that education is the only light to his dark world.
---
"Lights in the darkness" is a beautiful story written by young and talented Norbu Jamtsho.He shares his struggles and the challenges he faced as a young boy.He had to take care of his siblings and had to look after the household matters.The young author over comes all those struggles and lives happily with his younger ones.
I would recommend this book to everyone as we can know about the challenges in life and how the author inspires us to live
---
A young boy was encouraged to write his story by an increasing number of lights in his darkness. How he try to encourage others of his same circumstances by giving hope to them. May my light brightens the life of everyone who read this review?.
---
We could be misguided that a book authored by a High school student will be meant for high school students. I read this book a year ago and couldn't get the lesson learnt out of my head even if I wanted to. The book revolves around the them of how to turn our poverty into richness and how social negativity can be source of success and advanture. If you need an inspiration, grab this book.
I wanrn you, "Do not take this book for granted because it could change your life."
---
This book is written by Norbu jamtsho born to Jampel and Tshering Yangdon on 2nd September 1996 in Pemagatshel dzongkhag Bhutan.Many challenges came to his after his father's death.After his father's death his elder brother was compelled to drop out of school to support their family. After his father's death his mother was widow for five years. Her mother struggled a lot with her kids. During one of the winter vacation Norbu heard some rumors that her mother was going to remarry. At the beginning of 2011 Norbu mom remarried. Then the problems came to their family.After norbu mother second marriage she went to her second husband house. Many challenges came to Norbu Jamtsho's life,his mind was disturbed one he decided to drop out of school but due to the encouragement of his teachers and friends who knew his situation he was able to resume his education. After the completion of primary school he transferred to boarding school. During his winter break he spent the days doing heavy works he was able to earn Nu 6000 by the end of the vacation that was not enough for the shopping. Once he made a call to her elder sister who lives in Thimphu to send some money for his shopping but she refuse. When he went to shopping he skip his wants. When he was studying at Gonpasingma LSS he had 2 adopted sisters who help them in every condition. When he was at Nangkhor HSS Norbu had a class teacher Madam Ashley Lenzen who was from Canada.She was the one of Norbu's great master. One day she gave them journal entry to write about themselves. Norbu wrote about that he was taking father's responsibility among his younger ones. She spent most of her time editing Norbu's story. From the support from Madam Ashley Norbu jamtsho was able to write a book on his own life story
Books From Related Categories