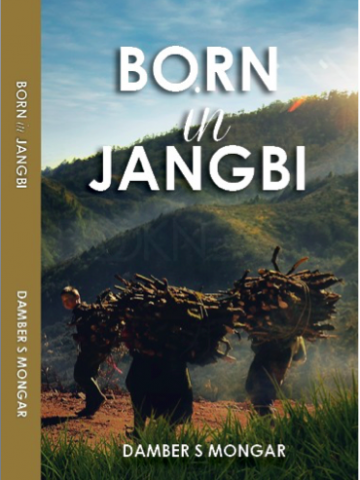 Born in Jangbi
| | |
| --- | --- |
| Published In: | 2017 |
| ISBN: | 978-99936-750-0-6 |
| Category: | |
| No. of Pages: | 200 |
Book Overview
Born in Jangbi is a realistic fictional story based on the Mönpa community in Trongsa and their unique culture and tradition passed down to them by their ancestors. The story is woven through the struggles faced by the protagonist Sangayla, who proved to rises from a destitute to the honorific post of the Education Minister of Bhutan. Through his struggle to get his education to get along the world of work to his swift rise in the power and success in each career ladder, the story takes though his hard work that led him to the massive success. It also talks in detail about how to look at problems through the positive lenses and embrace sacrifice to be agent of change in the society. Sangyala's entrepreneurial attitude, positive mindset and wits to tackle harsh realities that life has thrown on him has proven as opportunity rich encounter to rise up each time he fell in his life and remain unshattered in all weathers of life. It also takes through the Bhutanese values of Thadamtse and Lajudrey and its role in building the Bhutanese society and their social beliefs. This story has touched the lives of many youths and at its best, the story is adapted to teach life skills in many schools across Bhutan. The story admired by the people of all walks of life, it is worth reading to understand the culture of Mönpa and its existence among many odds ruling them over many centuries.
---
---
Customer Reviews (14)
---
A good read indeed! Heart-touching one!
---
Born in Jangbi is a fiction novel which takes place in Jangbi village. The characters Sonamo and Sangayla are sibling who losses their parents when they are young. The tragic death of their mother leaves them with drunkard father. The main complication in the story happens when their father brings home his new wife. And their step mother's ill treatment happens on the first day of her stay at home. Their father doesn't last long after he was ill. The kind Tshokpa of the village volunteers to look after Sangayla. And the step mother takes along Sonamo to Thimphu after their fathers death.
---
Born in Jangbi is a novel of love along with hardships. It displays the power of power over the power of love. And of course, eyes watery novel I have ever read so far. Happy Reading
---
A thoroughly moving story with true resemblance to a life history of a man from Jangbi.
---
The book is based on the realistic fictional story of monpa family, a mystical village called jangbi in afar Trongsa. The author touches the majestical culture of jangbi which was never brought to written form untill than my college mate and a close friend of wrote it.
---
A Monpa story that shows the until now hidden valleys of Monpas. It is a record of trials and tribulations of a Monpa to balance his tradition with the modernity, and the story makes you believe that working hard is sure to pay its dividends.
---
It's not easy being a writer in Bhutan. It's not easy being a writer anywhere. The first challenge is having original ideas. The second being the difficulty to put into precise words the volumes of imaginations, especially if English is not a first language. Even if books get published, their success depends heavily on how well they are received by the readers. In Bhutan, an improved reading culture is a very recent phenomenon. Moreover, due to lack of publishing houses, writers here face financial and logistics difficulties. However, Bhutan's mythical setting, and rich culture and tradition provide continual inspiration for authors who write fiction. Mongar's "Jorn in Jangbi" is one such book.

Jangbi is one of the three villages in Trongsa where a secluded tribe called Monpas live. They are so isolated that women giving birth are left alone in belief that those who can deliver on their own are considered strong, and domestic violence is justified by the fact that the offender was drunk at the time it happened. Children who don't get through the Class six Board Examination by default stay behind in the villages, helping their parents, while those who pass go out of the villages to pursue higher education. Sangayla is one of the fortunate students. However, he faces several challenges following the death of his mother. His drunkard father brings home a new wife, and he eventually becomes estranged with his only sibling. This is the tale of a man's perseverance and the will to defy limits.

The book provides an authentic insight into the lives of Monpas. Prior to reading the book, I had little knowledge about this closely bound tribe, and the hardships they face due to lack of modern facilities. It also shows the ugly truth about domestic violence, and rape. The story starts off smoothly, however gradually transits into a tedious narration during which characters hardly develop.

At times, the characters come off bland and without a strong sense of individuality. No matter how much I tried, neither could I invest in them on an emotional level, nor root for them. There was lack of smooth transitions, with some random snippets that don't really fit in with the larger narrative. Despite that, it is a heart-warming story about a circumscribed man who refuses to give in to poverty and hardships. If not for this book, I would not have known about Jangbi and its otherworldly inhabitants.
---
Born in Jangbi is a realistic fiction written by Damber S Mongar. It is basically the story of two siblings who had to really struggle through out their life. They grew up in the remote village of monpas, jangbi in Trongsa. After the death of their mother Galemo.. their father remarries with aum Deki who was undoubtedly very abusive and cruel. After sometimes the siblings also loses their only father and thus becomes orphans.Then the story takes on a sad notion where the two siblings gets departed where the the elder sister Sonamo is taken with the stepmother to Thimphu as a babysitter while the younger brother Sangela continues with his studies . Sangela keeps on worrying about about his departed sister. The story goes on, and finally the destiny brings the two siblings together in one school, may be because of some emotional connections or something where the brother works as a teacher and the sister as a sweeper.. This story was indeed very emotional and touched my soul. It is filled with beautiful lessons that one needs in life. It talks about one to be able to face the reality and face the obstacles with utmost bravery and positivity . Moreover it is portraying a beautiful bond between a sister and her brother. So I feel that if one needs motivation or some kind of push in their life, this book would be the right choice since it is very inspiring and motivational.
---
This book is a work of fiction and it was based on the monpa community in Trongsa Dzongkhag. It contains a story of Aum Galemo who lived in a tiny hamlet of Jangbi and she was the centre of attention of many monpa men for her beauty.She got married and had two children namely Sangayla and Sonamo. Both of them lost their parents at an early age and they had faced a lots of challenges in their life. Sonamo went to Thimphu as a baby sitter and she joined as a sweeper in one of the Schools. Sangayla continue his study with the help of community tshogpa. As he being hardworking and determined man he didn't loss his hope and got succeeded in his life. The best part in this story was that when both of them again unite together and had a good life. This book was such a inspiring one for our todays youth as it tells us about the importance of education, about our family bond and this book also proved us that the "Hardwork is key to success'. I would say that this book has greatly inspired me in my life as It has gaved me courage to face any challenges and helped me to move ahead in my life.
Therefore, I would suggest my friend to read this book and get succeed in life. If you happen to get depressed with your life I would suggest you all to read this book.

THANK YOU!
---
Title : Born in Jangbi
Author : Damber S. Mongar

Born in Jangbi is a realistic fictional story based on the Monpa Community in Trongsa Dzongkhag. This book is about a young teenage boy Sangayla and his elder sister Sonamo and how they face the harsh reality of world. And also talks about importance of family and relationship between brother and sister. I liked the character Sangayla very much because he fights through the problems and had a good life ahead. My best part was when Sangayla got a job and met his sister. We should be happy with what we have because in the story the brother struggled alot and faced many challenges to find his sister.

Note: This book is very satisfying and fascinating. So here, I encourage you all to read this book. If you have failed in your life and take a very good example from it to move on this very competitive and cruel world.
---
This novel was the first the novel which made me emotional and made me feel the pain of the main character who struggles so much. It was so inspiring for me to how to face my problems and not to give up. It also gave me the idea of people suffering in rural areas.
---
I dont have word to put for this book. This book made me very emotional and I couldn't stop thinking about me being in the protagonist shoe. I found it very heart warming. This book is about a young teenage boy sangyala and his sister sonamo and how they face the cruel reality of world. I liked the character sangyala very much because even though life was not fair to him he fought against fate and become someone successful and made even fate envy him. The only thing I don't like about the story is the story goes round and round but the main point is the same. I would recommend this book because this is a very inspiring book and by chance, if you need motivation this is the book you are looking for. So I really believe that this book deserve five star for making me inspired to work hard for my ambitions.
---
Sangayla and Sonamo who were born as Monpas in Trongsa dzongkhag and who lost their parents at a very young age and the only one who they can trust for education and other necessary items in life is their stepmother but the stepmother didn't care about them and mistreated them but somehow sangayla manages to continue his studies and becomes a education minister with the help of the Tshogpa(Head of the village),Jinda Trackchula and his daughter Dechen.However Sonamo was mistreated by Jinda Tashi and her stepmother but she managed to run away from them and became a nun and both of the became successful in their own ways.

The theme of the story is that Difficult road often leads to beautiful destinations.So, we should not give up in life and we should follow our dreams.
---
The book talks about importance of family. The story shows relation between brother and sister.
I like the story because brother fights through the problem and had a good life ahead.
My best part was when sangayla got a job and met his sister. I learnt a lesson that we should be happy with what we have because in the story the brother faced many problems to find his sister.
Books From Related Categories