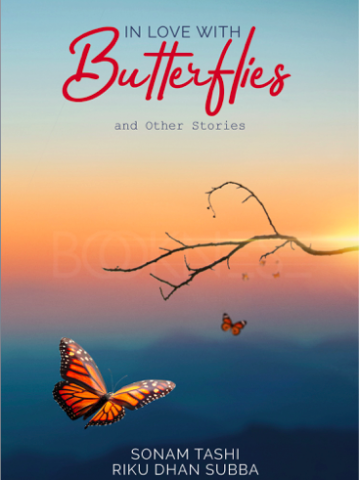 In Love with Butterflies and Other Stories
| | |
| --- | --- |
| Published In: | 2019 |
| ISBN: | 978-99980-850-0-8 |
| Category: | |
| No. of Pages: | 196 |
Book Overview
'In Love with Butterflies and Other Stories' brings to life endearing stories of pain, love, desire, loss, and healing. From the mundane realities to the funny, the profound and often complex nuances, this collection of short stories and anecdotes is a rich expression of life in a society that is itself at the crossroads of great change and transformation. From the unusual to the everyday experiences, from intrigues to intricacies, and from humor to the horrendous, the short stories are as much diverse as they are unique yet startlingly familiar.
---
---
Customer Reviews (13)
---
AMAZING MUST READ DO EEAD PLEASE READ
---
.collection of bful stories
---
As I flipped and read through the pages my emotions were as if on a roller coaster as different stories opened into some being educational like the story of the King and two pundits, funny like the story of complete strangers, Disheartening like the story of chadi's child, inspiring the story of the art lesson and some even mind jogging adventures. Beneath those stories I could sense a witty writer who is exposing the worst reality in a subtle manner and off course in every story there is a small ingredient of humor added, which makes it more interesting to read. I liked how the author show cased the unfortunate ground reality , some hidden disappointing stories and some events which looks familiar and even unknowingly has become normal in the society but needs attention; all these stories are crafted so well. And it amazes me how the two to three pages of short story uncovers a huge meaning and a completely different lens to look upon life. All in all if I had to describe this book in one sentence, then it is the book of a mysteriously and silently alive facets of Bhutan.
---
These are the set of poem which came through our daily lives.
It is the book of non-fiction which is happening with us.
It is interesting and well written with simple words which is understandable.
---
In Love with Butterflies and other stories by Sonam Tashi and Riku Dhan Subba is contemporary literature.
It portrays a rich expression of contemporary life and society.
---
Title : In Love With Butterflies And Other Stories
Authors : Sonam Tashi and Riku Dhan Subba
Genre : Non-fiction / Bhutanese Contemporary Literature
I chose this book because while reading the first few lines of this book, I got so much indulged with events and incidents in it. Even the words were easy to understand.
This book talks about the events that the authors have gone through. Their stories of pain, love, desire, loss, healing and lot more. The huge mysteries happening within the country of Bhutan are mentioned in it. And even the huge mystery are the masterminds. Every end of the story in this book ends with mystery.
My favorite part of the book is in the story of "She, I and Lazy" by Riku Dhan Subba where because of a big, handsome Chinook dog named Lazy , the author encounters a gorgeous woman and fells for her. He will be mesmerized by her beauty all the time considering that she might be the one for him. But, the tragic end is when later his friend takes him to his home for dinner and Lazy comes out of the door wagging his tail and when his friend says "Meet my wife," and you know next.
This is the far best book I have ever read of Bhutanese Contemporary Literature till now. Ending with mysteries and suspense letting us analyze what's next going to happen.
I recommend everyone whoever is reading this review to add this book in your reading list.
Try it, it's worth reading
You won't regret reading it !
---
Title: IN LOVE WITH BUTTERFLIES
Author: SONAM TASHI
Genre: NON FICTION
I chose this book because, it's giving knowledge about our life style, friendship,how education is important in our daily life. More over it's giving a information about not to watch adults videos which will distract our thoughts and involve in unprotected sexual life.
HERE IS A QUICK SUMMARY the three friends kinzang,sonam and pema loday they live in phuntsholing together in same rooms. And they all are having a small job to run their livelihood. All of then them where 20s young and unmarried and non of them had girlfriends like any other man, they also gossiped about beautiful girl ehen they saw at work place.and all of them were looking for partners for pleasure and weating for the opportunity.
Unfortunately they visit dingy video hall in jaigon to watch porn(ema datshi) there they met a young man who was talking about ladies ( butterflies) so,those 3 fallow went to experience but, after doing all those things at least they regretted for few minute of enjoyment.
MY FAVORITE PART OF THE BOOK IS when hormones were missing up with kinzang. And he tell to his friends that I want to go back for " Butterflies".
I LIKE THAT PART BECAUSE, when hormones where missing with kinzang, And just for few minutes of pleasure he sell his blankets and pillows to blanket vendors and he sleep without blanket in winter night.
I SUGGEST YOU TO ADD THIS BOOK TO YOUR RIDINGS LIST BECAUSE, #This book is giving us about hoe young people are getting spoiled.
# We should not involve in such negative works.
# How simple people are getting in to bad companys and losing their dignity at last.so,we should refrain from bad people's and their companys.
THANK YOU!
---
Let me begin by stating that every story in this book is worth a read, for it has its own brand of twists and turns. The story "Entrapped I" shows the filthy face of our society where we could fall up to the extent of counterfeiting fake currencies for individual benefit. Trust me on this, that this story is not a piece of article from a newspaper, but has its grandeur of fun.
Then, there is the story "In Love with Butterflies". No wonder why the book drew its title from this story. It has its own level of the lure. The story definitely will click with many of our young readers for its wild, though youthful appeal. The journey of Kinzang from the periphery of his little village to the bustling hubs of Phuentsholing, leading him to explore the unseen phase of human life will also, with a guarantee, make many readers smile making them flip the pages from their memories.
You will also encounter life's harshest ironies, where a Chief Monk turns out to be the leader of a gambling bunch. There is this story that personally connected to me. The story "To Be Good Again", which revolves around a narrator and a young man squeezed out tears from my emotions reminding me of my old days. Similarly, any one of these stories could also make you grin or sob turning back the time of your life.

Book Review by Senam Choden
Class X
Thrimshing Central School
---
This book has lots of interesting collections of short stories which I liked a lot. Almost all of Riku Dhan Subba has stories with unexpected endings.
The title of the story is "complete stranger."
If I tell you about one of the stories I liked was about the guy who had a crush on the beautiful lady. Her dog came to like him and that's how they got to meet each other for a brief moment. Later when he went to meet his friend, the friend persistently said, "it's high time for you to get married." There he even gave a thought about getting married with that lady. In the end, it turned out to be the wife of his friend.
It got me smiling and laughing profusely over his poor luck with ladies. I can only hope for him to try better next time.
That's why at the most I rate the book 5 stars.
---
.My Book Review
1.Title:A bottle of promises
2.Author:Sonam Tashi
3.what is the book about?
Ans.This book is about the issue of alcohol abuse and it's social cost .As in the book dupchu is addicted in alcohol and because of alcohol, he was fired from the job and quarrel with his wife.
2. New vocabularies.
Ans.1.lanky :(of a person)ungracefully thin and tall.
2.sober :not affected by alcohol.
3.jolting:move with sudden lurches.
4.gravely:to a degree that gives cause of
alarm.
4.what was your favorite part?
Ans:My favorite part of the story was when protagonist ask question to Dupchu, "why do you drink?"than Dupchu said said that "it is like being in love, you know ".And "I don't see my life without it".It convey that Dupchu cannot live without alcohol. And alcohol is like a oxygen to him.
5.Who was your favorite character. Why?
Ans:My favorite character is Dupchu because he is a jovial man.When protagonist saw him all time drinking alcohol he never insisted protagonist on joining him.Rather ,he advised protagonist never to drink. And he never gets angry to other people ,in any situation.
6.What is the Theme of the story.
Ans.The issue of alcohol abuse and its social cost. because we know that alcohol is bad for health. Because of alcohol, people are fighting at home.
---
The story ( A bottle of promises) is about a lanky, middle-aged man Dupchu, who comes to work as a tipper- truck driver in there house. Dupchu was a jovial man and it seems that the only problem or the flaws he has within him was the habit of drinking too much. He drank too much, he used to drink even before breakfast and even during the working hours he used to drink and sleep and the labourers often joked the truck to be his second home. At one time, he tried to be sober beacuse the father in a wild rage, gave a slap on his face fired him as he was not taking his job with integrity and puntuality. On being asked, "Why do you drink? " he said "Its like being in love".
He was reffered to as a disgrace to his childern and he was not in good terms with his wife. He starting to drink at the age of three reflect the social ills that we have accepted to live with. After few days he had a severe stomach ache and he wanted to start a new life and beg his forgiveness to his wife and children. So the boy asked his father to give him leave from work and his father agreed to send him. The next day Dupchu was nowhere to be seen. On heading towards his house and opening the door, he was lying there lifeless on his bed with the empty bottle of special courier, that the boy gifted him last time, by his side.
-Reviewed by Tashi Tshomo
Class 10, Tashidingkha Central School, Punakha
---
I only recently read this book and wow its a wonderful book. I like the story very much. This is a collection of short story and from all the stories I liked the one written by Riku Dhan Subba " The joy that the sky cannot hold". This story touched my heart, I got a warm homey vibes from it and I couldn't help liking this story. To summarize the story, its about a family where there was only a girl born after 3 sons and because of that she becomes the treasure of her family. So one time there was a drama where she plays the role of a princess and begs her elder brother to buy her a princess dress and she becomes so excited that it was like the whole world happiness was with her and all her family member could see how she couldn't sit still for the day to come sooner. when it was time for the drama something no one could dream happens.so, to find out read the book?. My most favourite character would the girl "kinley" because I found her to be very optimistic where in today's time it is hard to find. To tell you a truth I kind of found the story inside the book, short and its ends very quickly and I couldn't enjoy the moment well , this is the only part I am dissatisfied with. But eventhough short but the stories are great and i recommend this book for those reader who are into short story , it will be a perfect book. So I believe this book deserve 4 star..⭐⭐⭐⭐
---
Title:When VIP visits a remote school
Genre:Short Story
Author:Riku Dhan Subba
The story is about a visit of VIP to tingtibi primary school under zhemgang dzongkha. The school was one of the remote school with two hundred fifty students and five teachers.The school had no proper academic blocks.The classroom were made of bamboo raw wood and mud the school had no proper sanitation and drinking water there was no electricity.The students frequently suffered from seasonal diseases like typhoid,dysentery,scabies.A week before the visit of the VIP.The school head master made an announcement that the school surroundings should be clean and beautiful.The head master randomly distributed work to the students.The stronger students specially boys maintained the farm road girls clean the assembly ground and footpath.Theydon made gardens and planted flowers.The students were also ordered to wear clean and tidy uniform for the occasion.students also put up the welcome gate and spread pine tree needles on the footpath.The school looked beautiful and fresh with the new look.The VIP came and he looked fresh and happy.The head master took the VIP around their school and each classroom.he smiled and gave a speech he said I am impressed your school is very beautiful.The students are very happy and healthy I don't see any problem then VIP thanked school faculty for keeping the school perfect after a few weeks the school was backed to its original condition.nothing changed except head master got a promotion as the district education officer.
Books From Related Categories