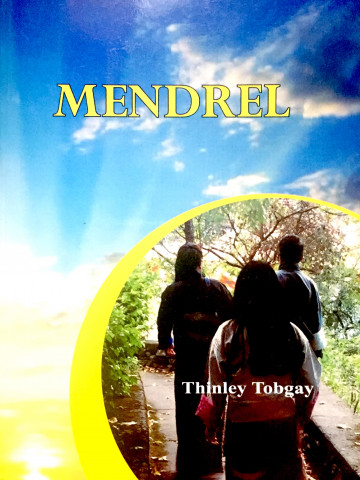 Book Overview
Mendrel is based on the reality of the 21st century love story. We can see many falling in love with each other, marrying and getting divorced in rare cases. The book gives light to love and arrange marriage.
---
---
Customer Reviews (7)
---
This book is all about the boy called Rigphel and those misunderstanding between him and his fiancé (Mendrel)
Its also about the things that he did to fulfill his own desires
he never care about his own wife instead of that he fell in love with the other girl called Tshezang
Them: In this world we all will get what we desired
---
What a book fell like I m in the book
And the story is amazing
---
Story name...:Mendrel
Author:Thinley tobgay
Genre:romantic friction
Story published on 2019

This story is based on a common love story....for the youths today..and some of the problems are relatable to our personal life problems
Main characters..:Rigphel,Tshezang,Mendrel,kimphey,ongchuck,uncle,aunty
Summary:Rigphel had a arrange marriage with mendrel..as per his late moms last wish was it......
Mendrel and rigphel didn't even tried to get close to each other when..he meet a stunning girl..tshezang...
They fell in love wit each other...and he thought of moving to phuntsholing and spending time wit tshezang...but till than mendrel had fallen for him...still he went there..leaving mendrel at Thimphu.. making excuses...
Mendrel was expecting him to love her back whereas..he was having an affiar wit tshezang...
Once..he was caught red handed..sleeping wit tshezang..by his uncle and aunt..when they returned..from their friends house..as they..came to pling.. for a vacation...
It was difficult..for him so..he acted rude..to her..and acted as he has breakup wit her..which made his uncle and aunt feel..relief..and forgives him..
After than he tried to contact tshezang..but couldn't.. and shared his problem..wit his friends..and knew said..that she might be playing wit..u
So he doubted on her when she was essentic..
And it was confirmed when he saw her wit another guy at zhang tho pelri...he tried to explained her..that he truly love..her...and so..her heart melted..but she couldn't be wit him...as her boy friend came back from outside country...
He was very hurted..and...left..
After few days when he went to kmpheys resturant..when she said..tshezang left a letter for u..
He was curious..abut..the letter..and read it..
It said that...she actually..loved him truely but her boyfriend.. ongchuck..came back..so she couldn't be wit him...and he also left her when he knew that she had a cancer...she was in the last stage ..of cancer. After he heard that...
He rushed..to hospital.....on the way..he had a call from tshezang.. that she was..coming...to him..he was really very delightful..and realized that he missed mendrel badly...
When they met...they went to hospital together..to met tshezang....
And at last...tshezang...starved to death.....
After..that...mendrel n rigphel..lined happily.. and tshezang.. in their memories
Model...*we can never...get what we want..jus...we get what we deserve....and we should be happy wit ..wat we have right now..

*Friendship...is the medicine..to relief your pain....

*every thing happen..according to fate(karma)and we should except it..

Thank u ❣❣
---
Title of the book: Mendrel
Author:Thinley Tobgay
Genre:Romantic fiction
Date of publish:2019

Characters:Riphel(protagonist), Tshezang, Mendrel...

Summary:
Rigphel vigilantly fell in love with the most gorgeous lady named Tshezang.Though he has faincè, he could not stop himslef from falling in love with Tshezang.His way of conduct and descipline won the trust even from unknown.His ideal outlook had power to win the hearts of every lady he accountered.Rigphel seemed to be the happiest person unless he heard Tshezang saying" I am more happier with Ongchuck than to be with you.This made him shed in tears, devasted and disheartened.Happiness and joys they used to have before did not was vanished.The betrayal caused him grief.

Later he came to know the reason behind Tshezang's such behaviour.She was living a life with a cancer.Eventually, Tshezang reached in the critical state of her life.She got hospitalised.So, here the story ends with Tshezang's death and Mendrel also forgive Rigphel for developing such unhealthy relation with Tshezang.Though Mendrel felt sorry for Tshezang.So, Rigphel's love story is unique and one can well imagine how life goes on with love.

From then onwards, Rigphel believes" people get what they deserve not what they want".so, I think it is the only matter of being patient.As when time went by Rigphel got what he deserved.I would say life is a greatest teacher.

Theme:
This book reminds us how important is love and the value oflove.Every one of us are after the nme, fame and looks, and often forgetting to value the most important factor of life, that is love.Being human, I think one deserves to love and to be loved.Giving up means rejecting opportunites appearing in our life.
---
Rigphel fall in love with a girl called Tshezang and they spent a good time and also got hurt. They went through many challenges through their way toward love for each other but it didn't work out cause the way was barricade by their uncle and untie by choosing his fiancee already. And his love story was unique and one call well imagines how life goes on with love. Life is the greatest teacher. Rigphel learned an unforgettable lesson in his life. As when time went by he got what he deserved.

In life, we get what we deserve not what we desired.
we can't escape from fate and destiny that God has already made for the individuals.
---
What a greatest book you have written la thank you so much 👍🤩🤩💕💕