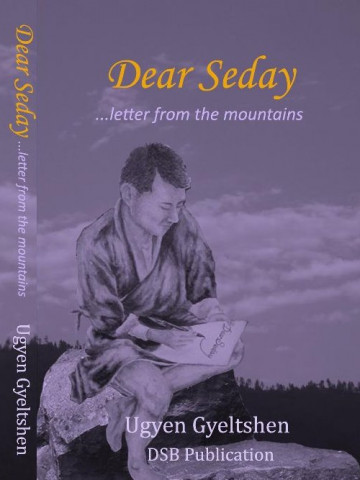 Book Overview
Don't undermine the love story of a Sharchokpa boy. It is epic and it is an epistolary novel woven around a time when technology and messaging apps were not even born and he had to resort to writing a very long letter to her.
---
---
Customer Reviews (7)
---
I read this book from my school library and it was really interesting
---
It is a nostologic story. I love this book for it's 90s setting. The book has great potential concealed in it's packaging. This book deserves to be read. It is one of the outstanding Bhutanese novel I have read.
---
This book is so amazing. It kept me fully interested to read it till the end . I loved the protagonist most of all. I liked his courage for finally writing a letter to Seday even though it has been 15 years since he saw her. He showed that feelings don't change although times changes.
---
This is a simple story revolving around a sharchokpa boy who writes his emotions towards his love Seday in the form of letter. It was a time during which letter was only the way to express in absence of technology.

The book is not really a scoring but deserve a read.

☺☺☺☺☺
---
It's a very nostalgic story of 90s love told in a very unique style. The book has very high potential that's hidden in its bad packaging... the color scheme used is very gloomy and the font could be anything else but that.
The cover picture need not be so obvious.

The book deservers a second edition with a whole new look.
---
Dear Seday is a love story novel with roughly 200 pages, whereby the protagonist Nadola sees his beloved Seday after fifteen years.

The way the story is told is pretty interesting. But I liked the book because it was written with such powerful emotions that it took me back to my school days: reminiscing myself as Nadola. Those golden -olden days when you fell for your puppy love and you could do anything, you were invincible and you knew if she wasn't the one, there would be none. Wasn't that beautiful? This book has enshrined those memories and brings them into life the moment you flip those pages. A collection of letters over fifteen years.

This book is meant for both tourist and Bhutanese readers who haven't been to Eastern Region. It gives you the true taste of Bhutanese lives in eastern region. It takes you to those corridors and rooms of eastern schools' hostels whereby nothing mattered, but friendship and few packed homemade cuisines.

Bits and bytes it talks about everything, the day to day chores and how exactly construction behaves. It is written by a very witty man, and the book would make you laugh and cry. This book is interestingly written and I won't tell you more, go purchase one and you would know why?

I do like the part whereby he somehow wrote: The Assistant Engineer is a bad man and is very dark, but darker is his heart. He is not handsome now. He will not be Handsome in next life as well. Ha ha.. Something like that, but in a very funny way.

The cost of the book when I purchased was Nu. 180/- and the paper quality of pages are good. Cover design and quality, however is not up to the mark. But don't judge the book by its cover, it is a good read.

1. Cover Design / Paper quality: *** stars
2. Story Content: ***** stars
3. Language : ***** stars
4. Clarity of stories: ***** stars
5. Cost: ***** stars

Hence forth: I rate this book as 4.6 stars.
---
Dear Seday is a love letter that tells a love story from 90s in the most nostalgic way possible. I love the book for the it's raw 90's setting, quick wit and the form in which it's written.
Only Ugyen Gyeltshen could tell an entire story in one letter.

The book design and the central character's name are a bit unromantic but overall this is one best Bhutanese novel I ever read.