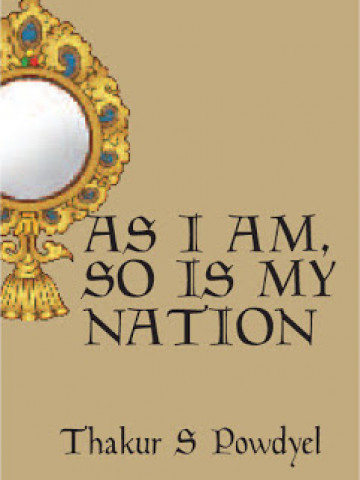 As I Am, So is My Nation
| | |
| --- | --- |
| Published In: | 2007 |
| ISBN: | 9789993619055 |
| Category: | |
| No. of Pages: | 81 |
---
* Available in (book stores)
DSB Books, Pe Khang Books,
Book Overview
As I am, So is my Nation is a deep reflective journal of the famed literature of Bhutan, Thakur S Powdyel.
---
---
Customer Reviews (4)
---
The book shares how the surroundings around us shape us and how it makes an impact on our nation. Its all our grooming ourselves with the knowledge, values and being responsible citizen of the nation and help in nation building. It also talks about the beauty of our nation with the great leader and how we need to respect and to take pride in our nation. The book helps us to realize how fortunate we are to be Bhutanese and about being a proud and responsible citizen.
---
This book is a treat for literature lover as it has abounding and impressive corpus from the author. It represents a deep understanding of many of the questions we ponder as a citizen,parent, son, daughter,educator, leader, builder, bearer or as a philosopher. 'As I am so is my nation' is a tribute to all the good things we have in our beautiful country and prayer for all the good things we have in this jewel of the Himalayas.
---
As I am, so is my nation

"The size of our universe is the size of our mind."

This is one book I read over and again. It has everything a good book offers. The measured and rhythmic language is a literary feast. An ideal bigger than the book. The celebration of life of a nation and an individual. The idea of how a nation is a collective reflection of individuals. As I am, so is my nation.

How fast you can finish reading this book depends on what you would like to take-away. If it is for the poetic language, you can read it away in a sitting. But it has bigger things to offer. The idea of Bhutan at her best. This, what I believe, is what Bhutan is and would look like at her best. I prefer to read it as a prayer book -- read a sentence and contemplate. They are profound, contemplative, and meditative.
---
If the idea of nation building is murky and if giving back to nation is not well convinced within us, this book is perfect guide. The author picks up from being diligent student to loyal public servant and delves down to being responsible citizen that counts to the nation building.
The title "As I am, So is my Nation" is a profound wisdom that can be suitably deconstructed as follows.
If we're successful so is our nation, if we cripple so will the nation.
The book as as famed as author.
Books From Related Categories