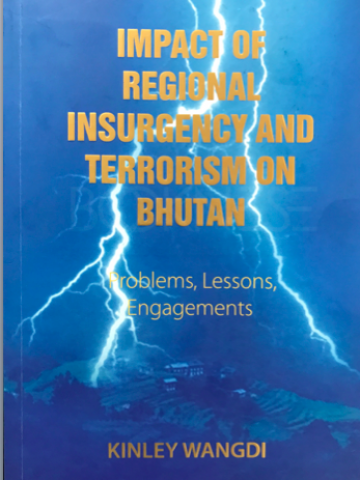 Impact of Regional Insurgency and Terrorism on Bhutan
| | |
| --- | --- |
| Published In: | 2021 |
| ISBN: | 978-99936-644-1-3 |
| Category: | |
| No. of Pages: | 457 |
Book Overview
This book is the first of its kind on security and strategic studies on Bhutan based on the author's experience and extensive travel along the southern Indo-Bhutan border. It does not deal with military aspects rather it delves deeper into threats against Bhutan from regional insurgency and terrorism prevailing in other neighbouring countries. The book contains observations and anecdotes that the author has lived with and observed during the southern disturbance in the early 1990s and military operations with Indian insurgents like ULFA, NDFB and KLO. This book presents different threat perspectives and analyses against Bhutan from regional insurgency and terrorism in India. China, Pakistan and Bangladesh. Though there is no terrorism in Bhutan, countries around it are constantly fighting against insurgency and terrorism directly or indirectly for decades. Lessons from these countries and mega terror events like 9/11 in the US, Mumbai attacks, Kashmir events are discussed in detail and the way these could trigger security threats against Bhutan. Moreover, Bhutan is surrounded by countries with nuclear capabilities and its location is in the hottest security zone of the world. This book presents in-depth discussions on security threats against Bhutan owing to this dangerous location. Threat from long and open Indo-Bhutan border is also presented in detail considering past, present and future security threats from various hostile forces in India's Northeastern states, West Bengal ( Siliguri corridor in particular). Security threats due to the absence of national highways, proliferation in the south and the current border municipal walls installed along the southern border towns are also presented in this book. The author goes to the extent of possible WMD threat against Bhutan and considers construction of border wall right from Sibsoo in extreme southwest to Jomotsangkha in extreme southwest -reality in long future or hypothetical. A special chapter is devoted to the role and leadership of His Majesty the 4th King Jigme Singye Wangchuck during the two-day war with Indian militants. Finally, the housing shortage in Phuentsholing and its effect on security in comparison to BBIN (Bhutan, Bangladesh, India, Nepal) agreement is briefly presented. This book is about security history, geostrategic location and border volatility.
---
---
Customer Reviews (0)
No reviews yet for this book.
Books From Related Categories